Description
Your vehicle isn't just a car or truck. It's an expression of who you are, and your tires are a big part of that. That's why there's BFGoodrich Tire Letters. Designed to fit perfectly & exclusively on your BFGoodrich tires, this tire lettering kit is an eye-catching way to express yourself.
What are BFGoodrich® Tire Letters? 
Since first introduced in 2007 by Tire Stickers® LLC based in Los Angeles California, tire lettering kits are an exploding trend in vehicle customization. BFGoodrich® has exclusively partnered with Tire Stickers® to introduce BFGoodrich® Tire Letters.  Developed in collaboration with enthusiasts and motorsports teams, and made in the USA, these raised rubber tire letters adhere to your tire sidewalls over the existing black lettering with real strength (designed to withstand the most demanding conditions and highest temperatures). The product is designed to last the life of the tire in all daily driving and most off-road conditions with the exception of severe sidewall abrasion, however, replacements can be ordered if necessary!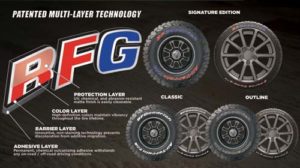 Can I order these for my tires?
Each tire lettering kit is designed to perfectly over the existing sidewall lettering.   BFGoodrich Tire Letters will be available for most tire models and sizes including:
-All Terrain T/A KO2 (perfect fit over black side)
-Mud-Terrain T/A KM3 (perfect fit)
-g-Force Comp 2 and Comp 2 A/S (cover existing lettering)
-g-Force Rival (cover existing lettering)
What colors are available? 
Choose between three color options for your BFGoodrich® Tire Letters including:
-Signature Edition – Red, white and blue color series best known from off-road motorsports
-Outline Edition – White outlined tire lettering with a black interior
-Classic Edition – Classic white letter color series
What's included in each kit Do-It-Yourself kit? 
These tire letters are available as a Do-It-Yourself kit which can be applied to any BFGoodrich® tire in the comfort of your own garage. Each kit includes:
-Tire lettering (includes 4 or 5 tire's worth of BFGoodrich® and model name),
-Specialized Tire Stickers® FleXement Tire Lettering Adhesive so they bond to your tires and never let go
-Rubber gloves for a clean installation
-Tire Stickers® Rubber Bright Touch-Up Cleaner (2 oz)
-Complete directions so the job gets done right!
What's the process for installation? 
BFGoodrich® Tire Letters are easy to apply and give your tires an unforgettable look that will turn heads everywhere you go! Check out the installation video for the step-by-step process to achieve a professional and lasting finish.